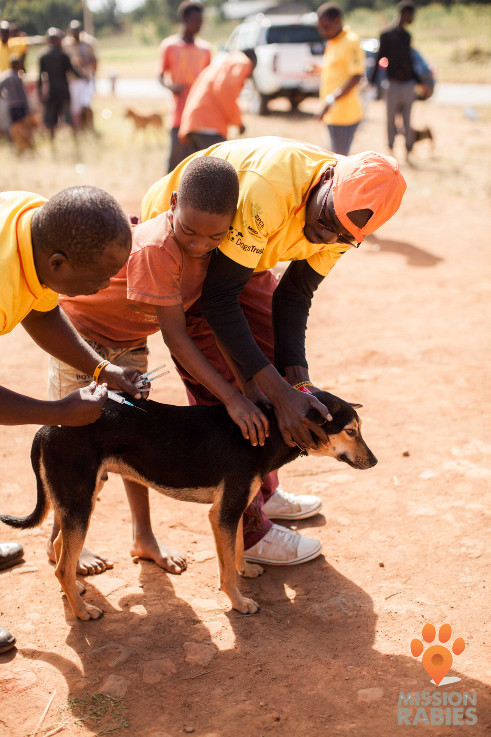 Malawi is among the world's hotspots for rabies and this vicious disease poses a huge burden to the country.
Blantyre, the commercial capital in the south of Malawi, is the city where a single hospital reported the highest number of child rabies deaths anywhere in Africa.
We are going to make it the lowest.
2015
Together with our partner charity, the Blantyre SPCA, we launched our Malawi campaign in May 2015 and vaccinated more than 35,000 dogs in just 20 days, achieving a vaccination coverage of 70% across the dog population of Blantyre.
Our powerful Mission Rabies app really came into its own, enabling Andy Gibson, our Research and Epidemiology manager to remotely guide all 8 teams ensuring at least 70% of the dog population was covered in all wards.
After our hugely successful campaign in the city, our teams pushed on, vaccinating dogs in the surrounding Blantyre district, completing it in 101 days.
2016
2016 saw the expansion of Mission Rabies Malawi into 2 neighbouring districts, Zomba and Chiradzulu.
Utilising international volunteers for 2 vaccination drives in Blantyre and Zomba cities, enabled us to vaccinate these densely populated areas with maximum efficiency.
The local teams then stormed away in the rural areas, with an average of 9,000 dogs vaccinated per month.
The final 2016 numbers came in, 90,079 dogs in one year across the most challenging terrain yet, we were flying!
We are all about synergistic partnerships at Mission Rabies, here is how we are collaborating with other organisations in Malawi:
Our sister charity, Worldwide Veterinary Service, will be providing veterinary infrastructure for the BSPCA by setting up a brand new veterinary clinic for the city and running training courses for local veterinarians and animal handlers.
We established links to the authorities to set up a rabies surveillance network, making sure that every rabid dog is reported and our response teams can react to the situation, protecting the people and other animals in the area.
Our successful education campaign and materials, educating children about the dangers of rabies and how to behave around dogs to prevent dog bites. During 2016 our education campaign reached more than 370,000 children in Malawi!
2017
2017 was a successful year for Mission Rabies in Malawi.
Our teams vaccinated 98,761 dogs in 2017. We have worked again in Blantyre, Zomba and Chiradzulu.
453,785 children where educated about rabies by our team members in the year 2017. Education is such an important tool for us and we are glad to see the effect it has.
2018
This year we will send our Mission Rabies teams to Blantyre and the lake districts again to ensure that the vaccination coverage maintains over 70% in the dog populations.
Our education programme is active as well and our officers are busy reaching out to teach school children about rabies and bite prevention.
Our Mission Rabies teams have already been busy this year doing surveys to prepare the vaccination drive that will follow later this year.
For more information about how to get involved with our projects click here.