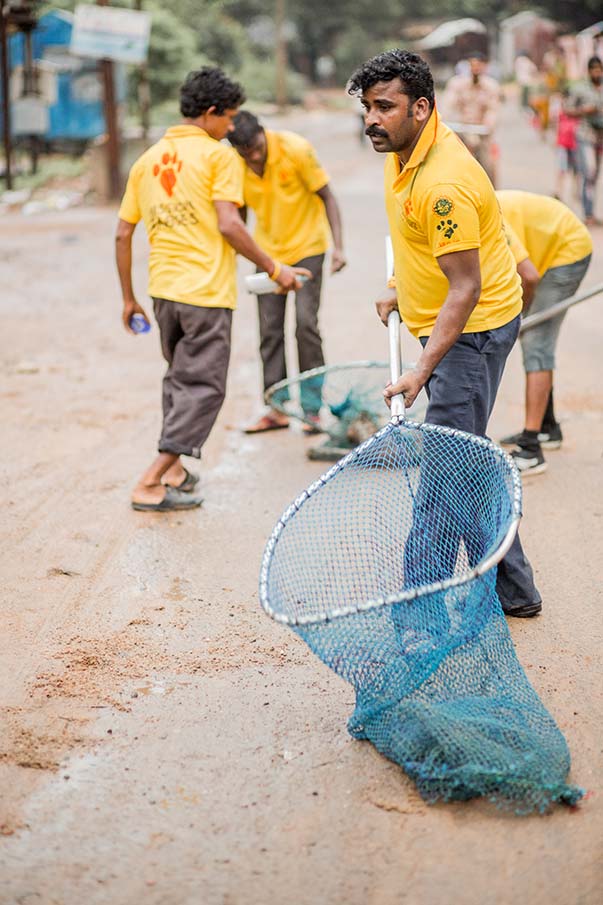 Mission Rabies launched in India - the world's hotspot for rabies, where a third of all human cases occur. That's the death of a child every hour.
2013
Our big launch, 61,143 dogs vaccinated in just 1 month!
International volunteers from 14 countries joined forces with local dog catchers and vets to make this campaign a huge success, not only protecting so many dogs from Rabies, but increasing awareness and making Rabies a country-wide issue.
Reaching our target of 50,000 dogs in just 25 days, Mission Rabies proved that we can and will make a huge difference in a short space of time.
And that was just the beginning!
2014
Goa is a go
We set ourselves a challenge - make Goa a Rabies free state!
Bordered by sea to the East and jungle to the North, South and West, the movement of dogs into and out of the state is limited, making it the perfect location for a state-wide vaccination campaign.
In 2014 we sterilised 20,400 dogs across Goa in a 6 month long campaign. By creating a more stable and healthier dog population, we lay the ground work for incredible future rabies-combating results.
We also set up out Rabies hotline, a number that local residents could call to report rabid dog sightings. This allowed our team to locate and remove rabid dogs, and complete a ring vaccination of 200-300 at-risk dogs in the area, stopping the spread of the disease in its tracks.
With the truck traversing the country vaccinating, sterilising and raising awareness in far-out communities, and our proof-of-concept city Ranchi forging ahead with over 8,000 vaccinations and 4,500 sterilisations, India was off to a brilliant start!
2015
2015 was a HUGE year in India, smashing our previous vaccination records, delivering 94,753 rabies vaccinations!
Developing a strategy to cover all 12 talukas of Goa in a year, we meticulously mapped out every catching area, trained even more dog catching teams, recruited an amazing project coordinator and set to work.
In September, we welcomed back 20 international volunteers for another month-long mass drive, allowing us to complete one of the most densely populated of Goas' talukas in just 4 weeks!
Our first international volunteer project in Ranchi exceeded all expectations with 5 teams smashing their 5,000 dog target by vaccinating 6,241 dogs in the most densely populated wards of Ranchi city in just 2 weeks!
2016
It was going to be tough matching the success of 2015, but we managed to catch an extra 495 dogs for our grand total of 95,288 vaccinations across the Indian projects!
The end of 2016 brought about the start of a Mission Rabies and WVS (Worldwide Veterinary Service) synergistic partnership in Goa. The Goa HICKs International Training Centre was constructed in the northern region of Goa to build upon the sterilisation work started by Mission Rabies in 2014.
We have seen a clear decline in human rabies deaths in Goa from 17 in 2014, 5 in 2015 and only 1 in 2016!
Get a feel for what being part of a vaccination team in Goa is like, watch our Goa videos
2017
2017 has already seen our cornerstone project in Ranchi surpass a massive 100,000 vaccinations!
Supporters, donors and employees of Mission Rabies will be merging on Ranchi to celebrate World Rabies Day and to showcase Ranchi as a successful proof-of-concept project.
We are covering every 3,702 km of Goa with our catching teams working alongside the WVS sterilisation teams.
We also have our very own rabies laboratory in Panjim enabling our rapid response team to get a fast diagnosis from every dog they pick up.
In September we celebrated 1 year of no human Rabies Deaths in Ranchi City and looked ahead to a Rabies free Jharkand state, check out the press release here
Having already reached 92,000 vaccinations, 2017 is set to become another record breaking year in India!
2018
2018 has started off being very busy for our teams in Goa and will continue like this throughout the next months. The education officers work alongside our vaccination teams while Mission Rabies officials engage in government meetings and in strengthening our contacts to local municipalities and panchayats.
All Mission Rabies team members are continously working on spreading our efforts and programmes.
You want to get involved as well? Here you can find more information about how to help us in the fight against rabies.